Finding a quality porn game among the ocean of mediocre porn video games that swarm the internet can be complicated. Each game is different and the appreciation of the same game can vary widely depending on the player's taste, especially when it comes to porn.
Today, it's Cunt Empire that we are going to present you. A clicker porn game in comic book style (too bad for Hentai fans) with excellent visuals. Here is our review of the porn game Cunt Empire.
| | |
| --- | --- |
| 💎 Site | CuntEmpire.com |
| 🎮 Type | Idle Game / Clicker |
| 🖌️ Graphic design | 2D Graphics |
| 📱 Support | Computer, smartphone and tablet |
| 📙 Language | Russian, English |
| ⭐ Note | 5/5 |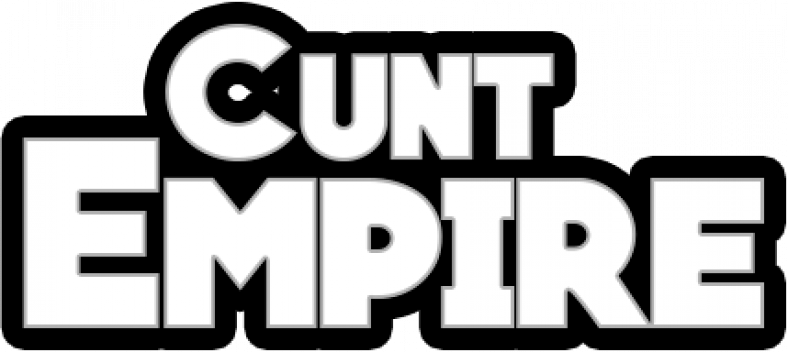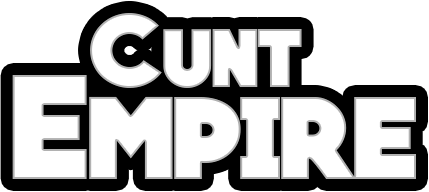 🍑 Cunt Empire: Description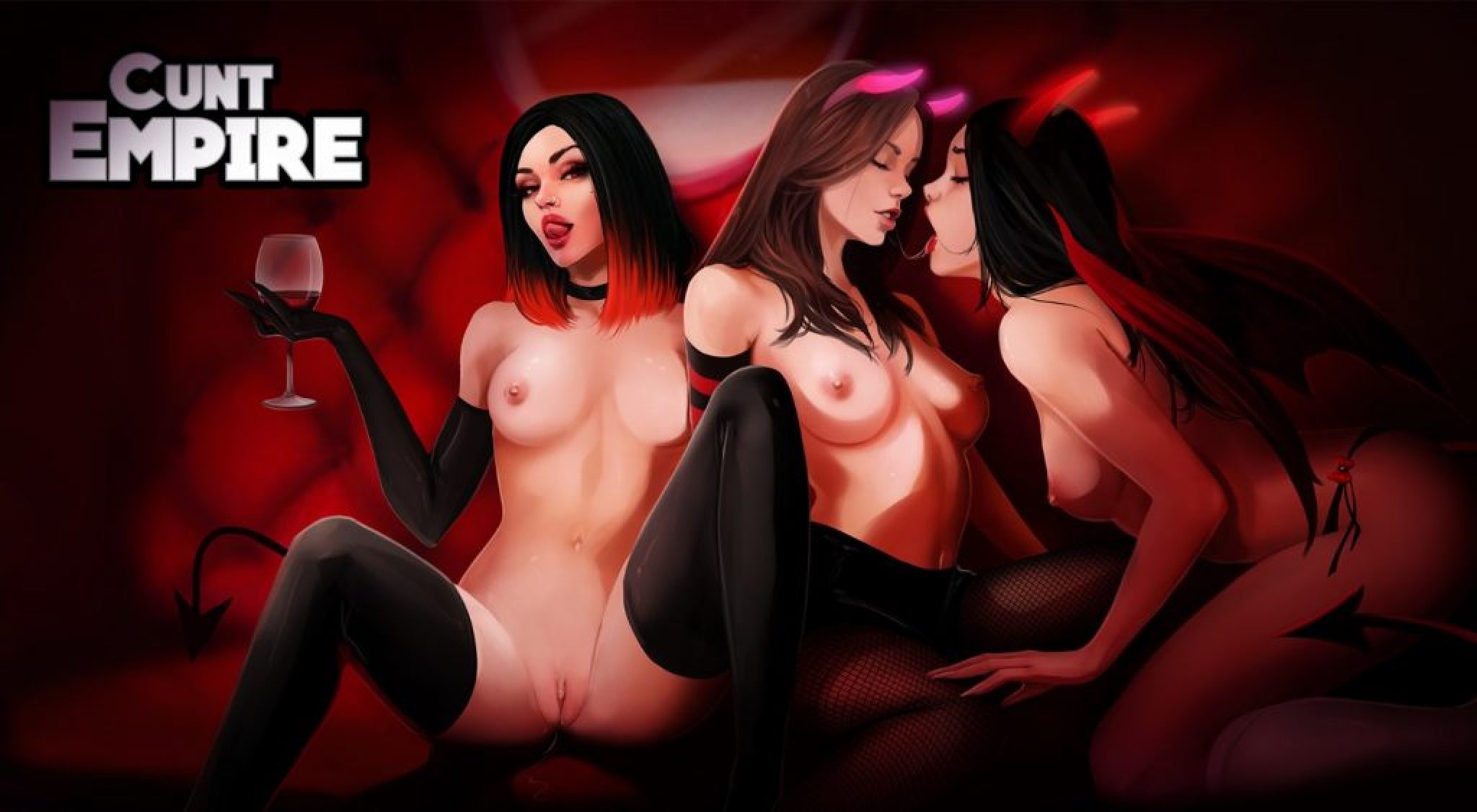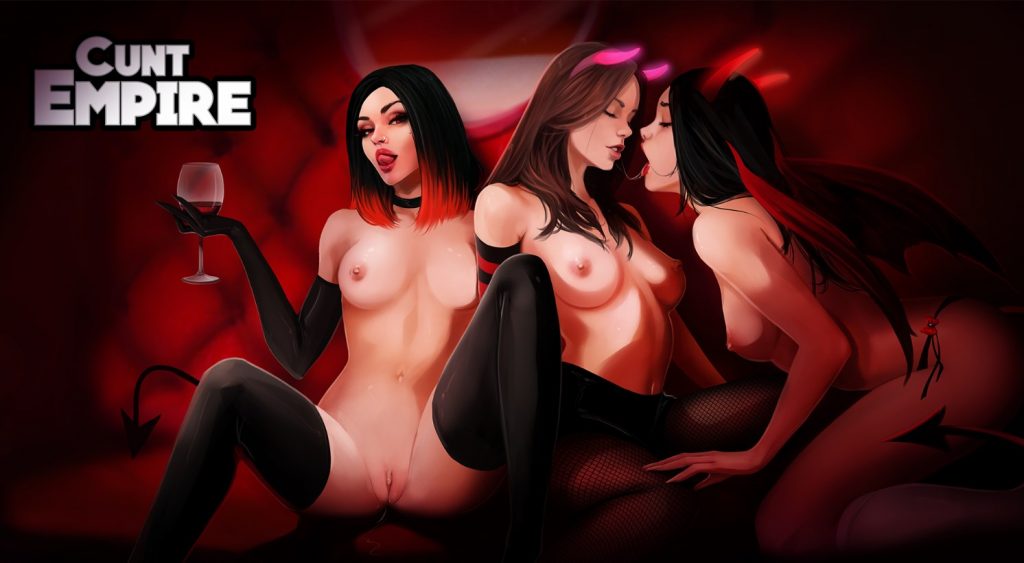 Cunt Empire is an Idle Game/ Clicker porn video game. Idle Games are a kind of game where most of the actions can be executed without the player.
You improve buildings, objects or characters that will generate virtual money automatically, a kind of management game in short. Although the principle is simple, Cunt Empire knew how to reuse this formula to offer us an original game.
History
Marc has just fucked his boss' wife and been fired from his job. He and his colleague Little Caprice decide to open their own porn movie production studio. The only problem is that after a few days of work, Marc, Little Caprice & Co. realize that they are stuck in a time loop.
You'll have to rebuild Mark's empire from scratch at the start of each day, but don't worry, every new girl who joins your company will stay with you in the time loop.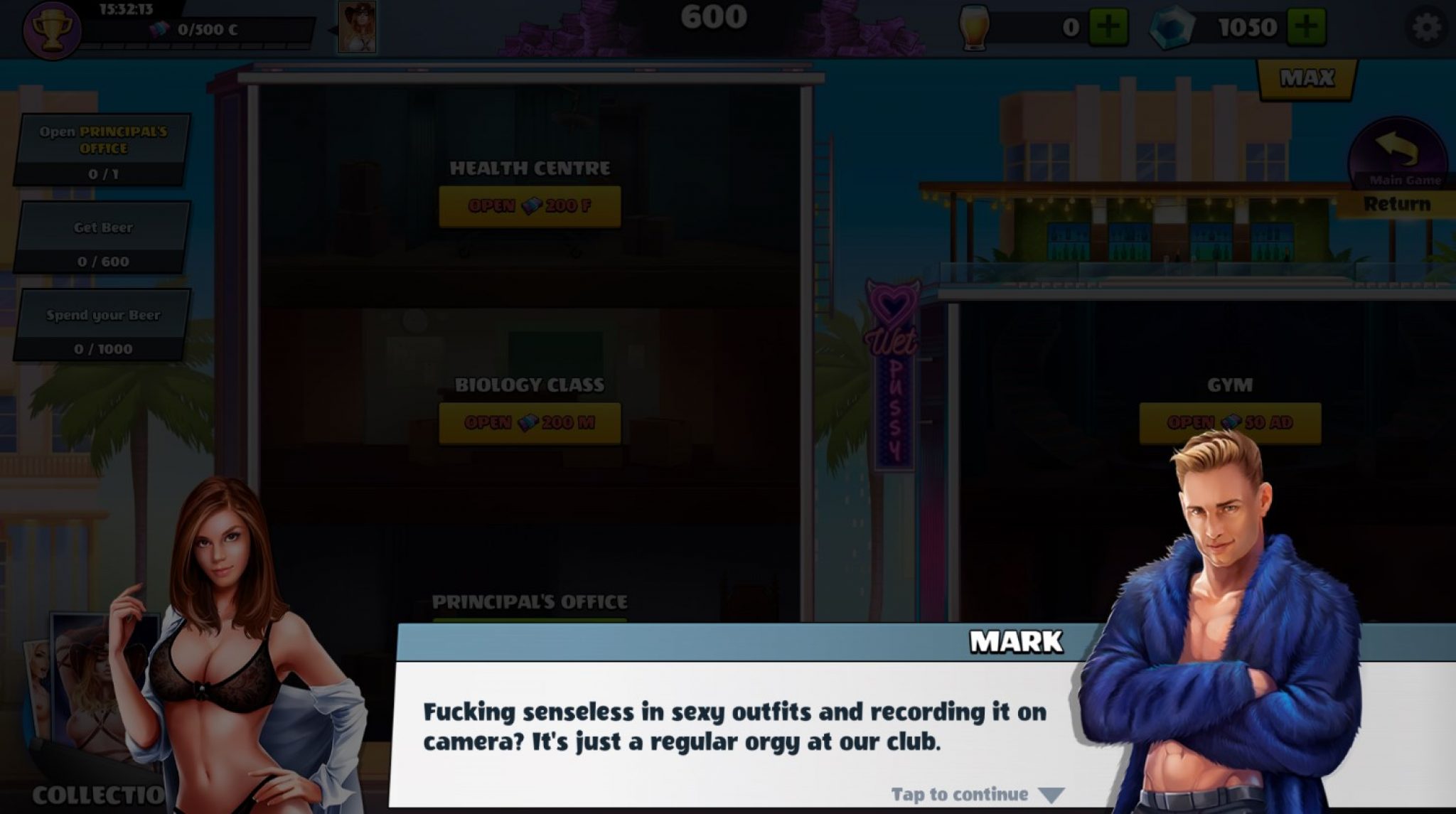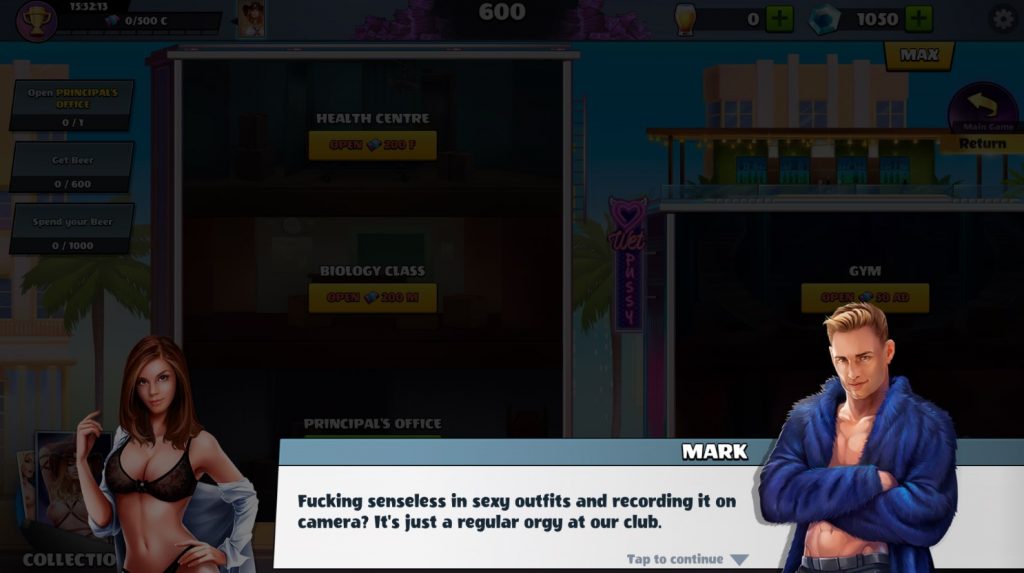 If you're a fan of porn movies, the names Marc and Little Caprice should already tell you something. Indeed, most of the characters in Cunt Empire are inspired by real actors from the porn industry. So it's not surprising to see actresses like Liya Silver or Apolonia Lapiedra.
The characters of Mark and Little Caprice take their names from Markéta Štroblová and Markus Schlögl, a couple of porn actors married in 2017, better known as Little Caprice (or Lola) and Marcello Bravo. Cunt Empire allows you to follow the adventures of these two sex-loving lovebirds.
Gameplay
As said earlier, Cunt Empire is an Idle Game. The gameplay of this kind of game is very simple, Cunt empire is no exception to the rule. In this sexy clicker, you manage 5 different buildings divided into 3 floors. Each floor is unlocked as you complete episodes.
To finish an episode you have to complete different quests. Buildings generate money automatically, but you can click on them to generate money faster. In order for your buildings to generate money, you must place an actress to work in them.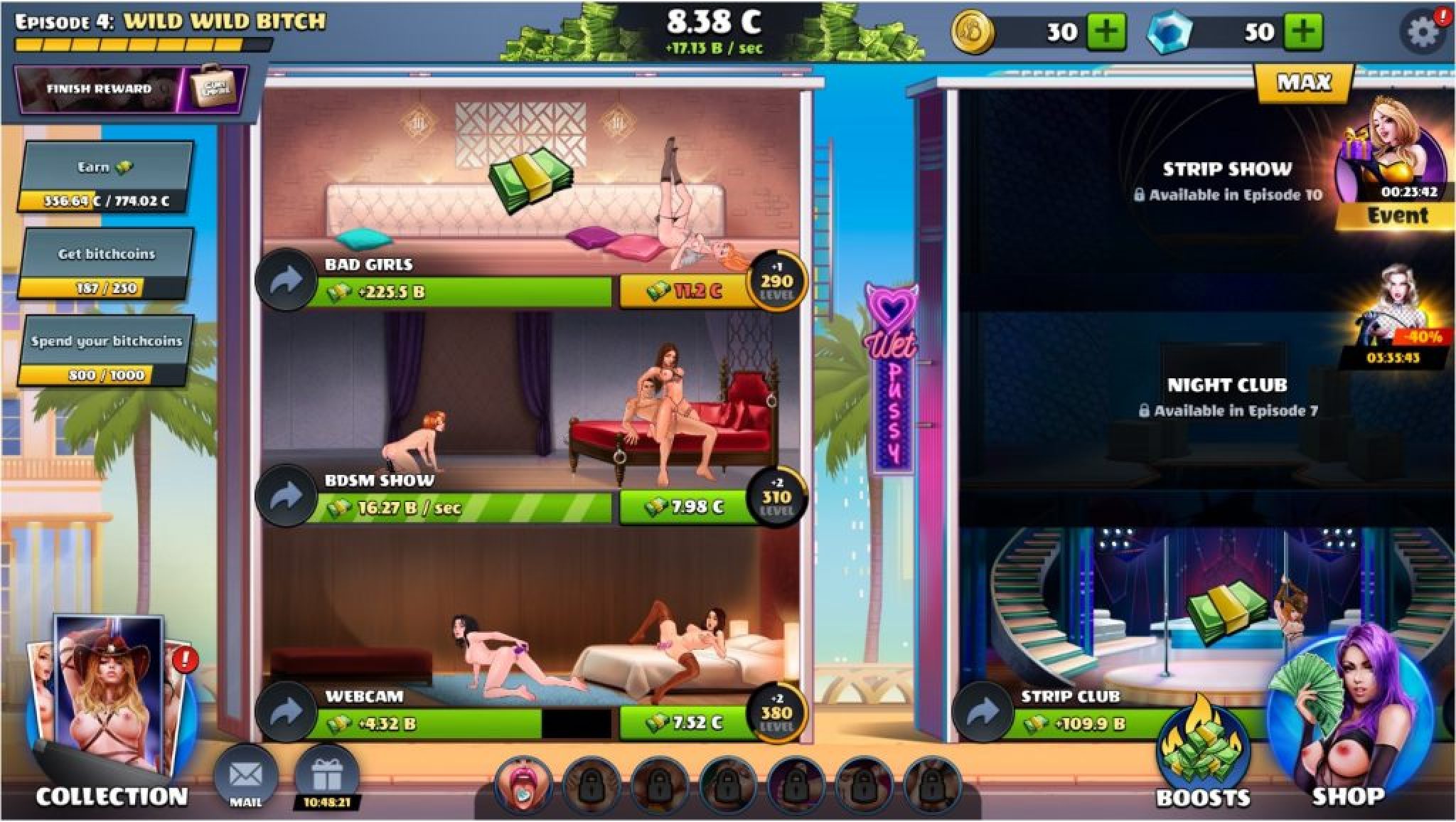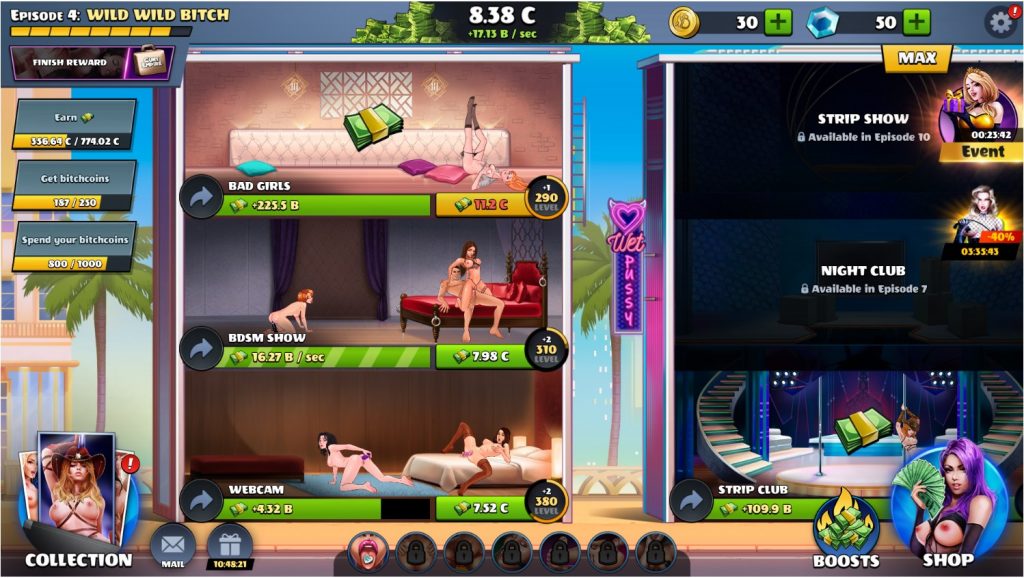 Sometimes Marc will appear between buildings and if you click on him, a mini-game will start and your winnings will be temporarily multiplied depending on your score on the mini-game. You can upgrade the girls and items you have by spending Bitch Coins.
You will get 3 Bitch Coins every time a business reaches 100 customers or by opening cash registers. You can also buy Bitch Coins in the game store for real money.
Each time you finish an episode, you start over from the beginning while keeping the girls and items you have obtained as well as your upgrades. Your goal is to get out of this time loop and create the biggest porn empire.
Event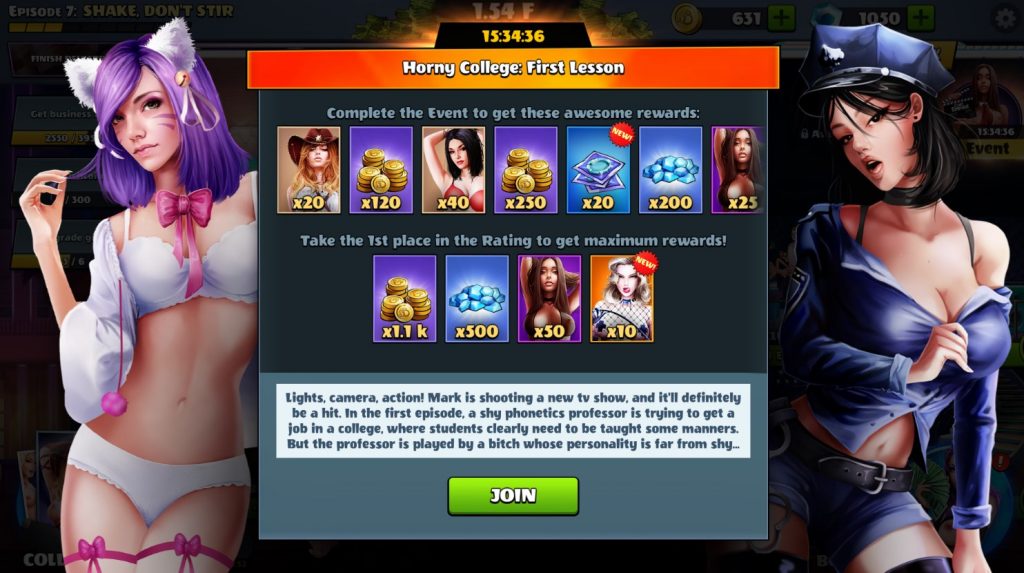 Very often, Cunt Empire will offer you to participate in events. This event uses different currencies than the "base game" and follows a different progression. You will get rewards in the base game based on your score in the event.
Your score is defined by the amount of money you manage to accumulate during the event. As you progress through the episodes, you will unlock exclusive Cunt Empire porn movies. You will be able to see Marc fuck Little Caprice directly in a video integrated into the game.
Graphics
The graphics of Cunt Empire are not inspired by Hentai anime, contrary to a large part of the porn games. Cunt Empire preferred to bet in graphics a little more "Western".
Apart from the graphic style that the game has decided to adopt, the graphics and designs are very nice for a free browser game. The drawings on the girls' cards make them very attractive and seeing them bouncing on a dildo or getting fucked by Marc has its little effect.
❤️ Cunt Empire: How to Play?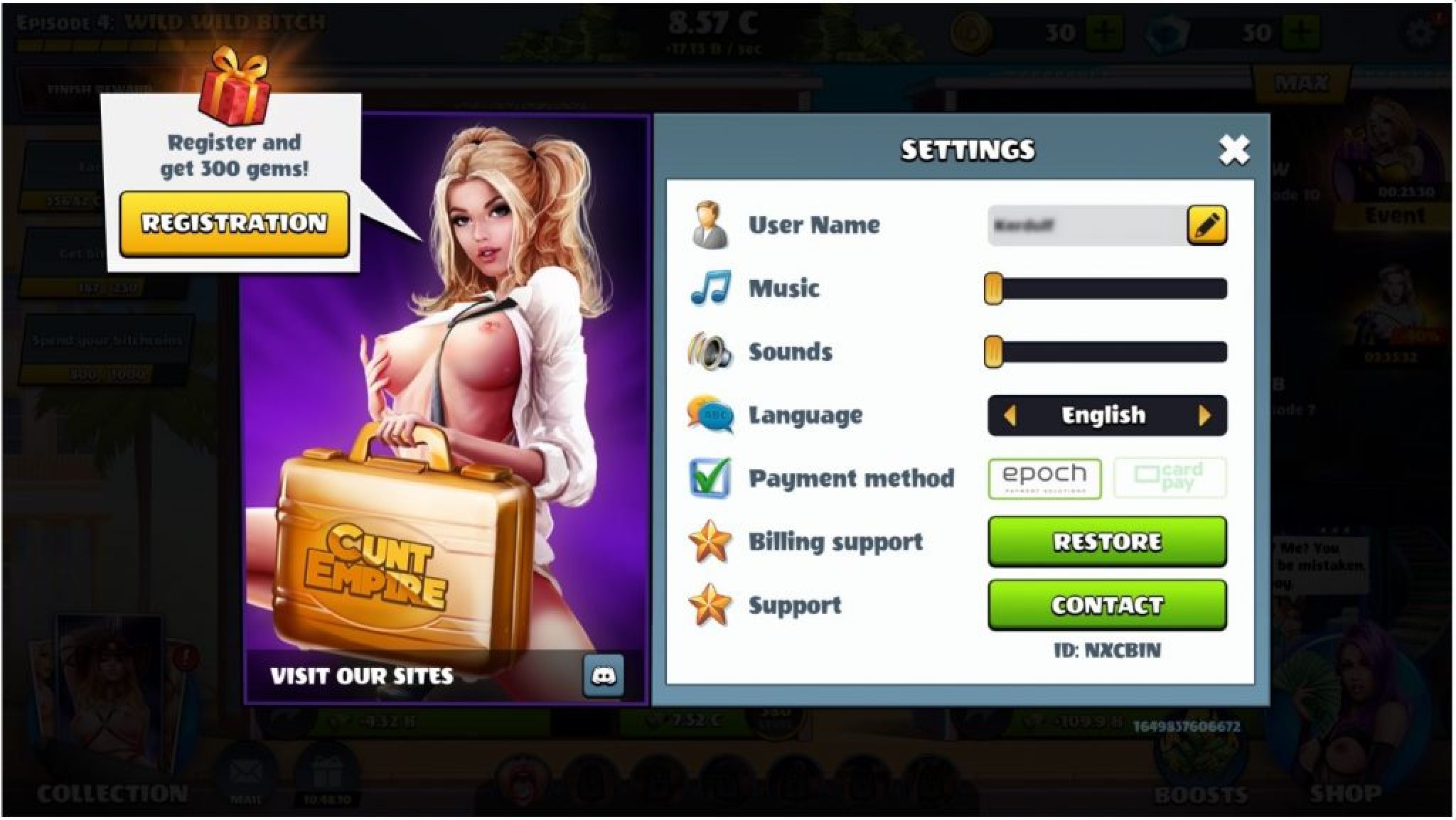 Nothing could be simpler, to play Cunt Empire, just click on our link, click on the "Let's go" button and start playing. Even without registering, your progress is saved, however, if you delete your caches or cookies, you may lose your progress permanently.
To avoid this, it is best to create an accountTo do this, it is very simple. Once the game is launched, click on the small parameter wheel at the top right of the game screen, then click on "Registration".
Finally, enter the code you received in your mailbox to validate your email address. Creating and validating your account will allow you to receive 300 gems for free !
🍑 Cunt Empire : Play for Free
Cunt Empire is a totally free porn game. However, you can accelerate your progress by buying gems and Bitch Coins.
Gem price
| | |
| --- | --- |
| 💎 500 Gems | 4,99 € |
| 💎 2,500 Gems | 19.99 € |
| 💎 6,500 Gems | 49,99 € |
| 💎 14,000 Gems | 99,99 € |
Bitch Coins Award
| | |
| --- | --- |
| 🪙 1,000 Bitch Coins | 4,99 € |
| 🪙 6,000 Bitch Coins | 19.99 € |
| 🪙 17,500 Bitch Coins | 49,99 € |
| 🪙 40,000 Bitch Coins | 99,99 € |
Gems allow you to obtain girls and items via the "Casting" tab in your "Collection". You can use your gems to open crates that contain cards that allow you to upgrade your girls and toys.
You can also spend your gems to buy "boosts". These boosts accelerate the production of tickets by x2, x5, x10 or x20. Since Cunt Empire is a free game, it is completely optional to buy gems. In addition, you can get gems for free by registering via our link.
❤️ Cunt Empire: Advantages and Disadvantages
Cunt Empire is a porn clicker that has several qualities and defects. Here is a list of advantages and disadvantages that we could find to Cunt empire.
Benefits
Free registration
Graphics and drawings in HD
Fully optional payments
Ergonomic
Multiple quality videos
Characters based on real actresses
Disadvantages
Lack of what to satisfy a wider public with characters with "Hentai" design
Self-promotional pop-ups
Redundant
🍑 F.A.Q
Here are the most common questions about Cunt Empire:
❤️ Can they play Cunt Empire for free?
Cunt Empire is a totally free porn game. You can play without even needing to create an account even if it is still recommended to do so.
🍑 Is it possible to play Cunt Empire on a phone?
It is quite possible to play on your smartphone. Cunt Empire is even compatible with tablets. You can create an account to link your progress on all media.
❤️ Do we need to download Cunt Empire?
There is no need to download Cunt Empire to play it. Cunt Empire is a browser based porn game.
❤️ Cunt Empire: Our Conclusion
If you are looking for a good porn game, Cunt Empire will be among the best games you could find. It launches quickly on your browser, is totally free and allows you to follow the story of real actors and actresses.
The simplistic gameplay of an Idle Game can become repetitive, but Cunt Empire still manages to captivate us. Even if I got bored with the game several times, I always end up coming back to it. It's probably not the hottest game among all the porn games you can find, but you have a great time relaxing on Cunt Empire.