Hentai Heroes is one of the most popular browser porn games, so you've probably already heard about it. But do you really know this porn game and what it offers in terms of gameplay and design.
In this article we will review all the features of the game and give you our opinion whether or not Hentai Heroes is a porn game that deserves its success.
| | |
| --- | --- |
| 💎 Site | Hentaiheroes.com |
| 🎮 Type | Narrative / RPG / Gacha |
| 🖌️ Graphic design | Hentai 2D graphics |
| 📱 Support | Computer, smartphone and tablet |
| 📙 Language | French, English, Spanish, German, Japanese, Russian (Beta) |
| ⭐ Note | 5/5 |


---
Hentai Heroes : Description
Hentai Heroes is a browser-based porn game whose artistic direction is more towards a style Hentai. Indeed, many characters of Hentai Heroes refer to other characters of cult manga works like One Piece, Naruto, Evangelion, etc., but also less known licenses like Deadman Wonderland.
However, Hentai Heroes doesn't limit itself to manga characters, and also takes on characters from video games and other types of fiction. Hentai Heroes won't hesitate to attack the male characters in your favorite manga by altering their gender - "Gender Bender" for connoisseurs.
In the Hentai lexicon, Gender Bender defines the passage of a character from one genre to another. In short, you can see a female version of the character of Shaman King take the name of "Gwenaelle" as well as dicks, even Mr.Popo (Dragon Ball) goes there.

History
The story is one of the pillars of Hentai Heroes. The game focuses heavily on its narrative and visuals to keep you warm and entertained. The story is pretty basic, but effective. You play as a young, strong and hard-working student who is transported to a dimension filled with sex addicts by a hottie named Bunny.
After accidentally eating the "Power" fruit, you're about to become a sex god. Your sidekick, Bunny, will then teach you the objective you must fulfill, to travel the world and dimensions and obtain the greatest of Harems.
The developers of Hentai Heroes add new scenarios very regularly. If you want to warm up, have 15 minutes of fun on Hentai Heroes to drain your energy before getting down to business.
Gameplay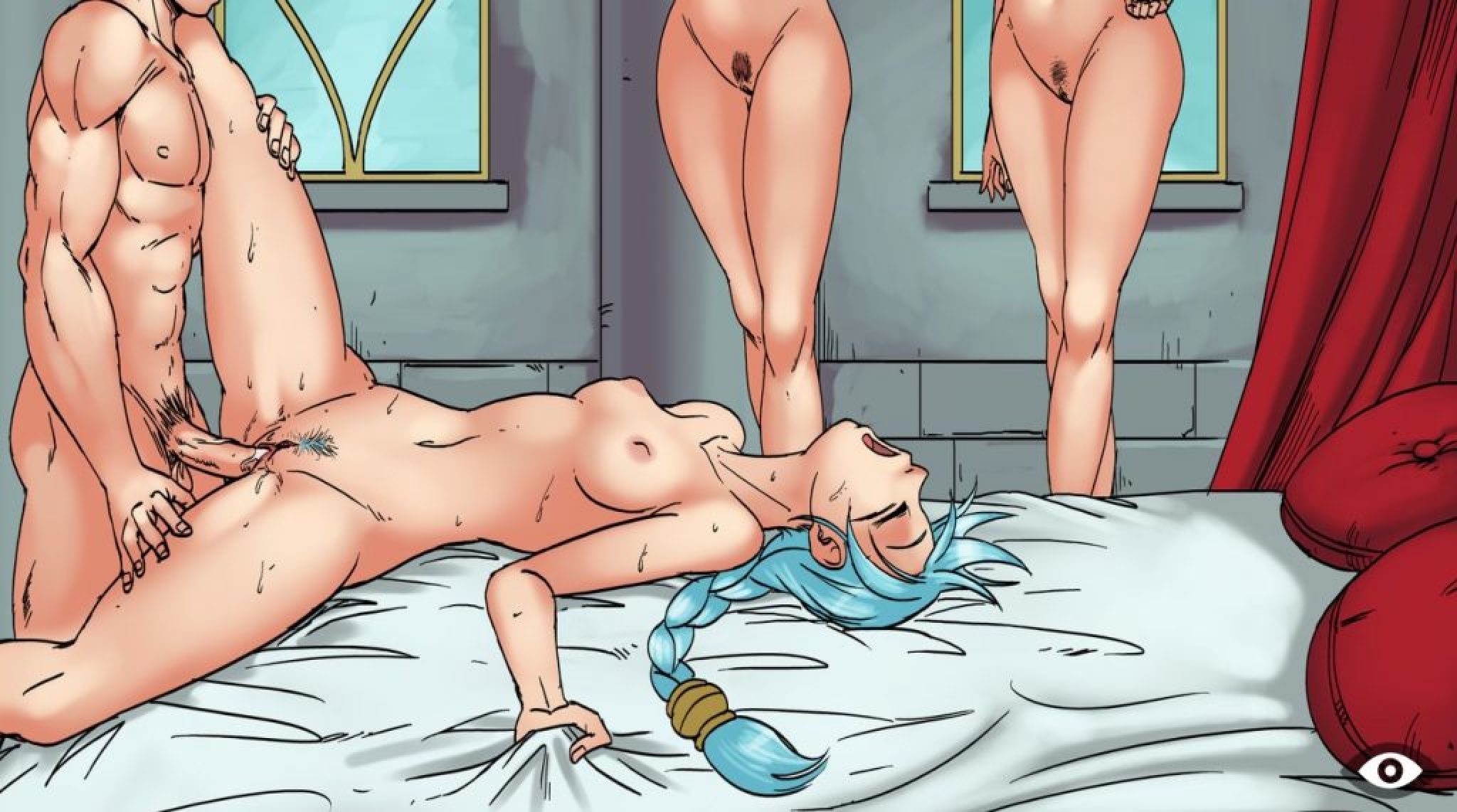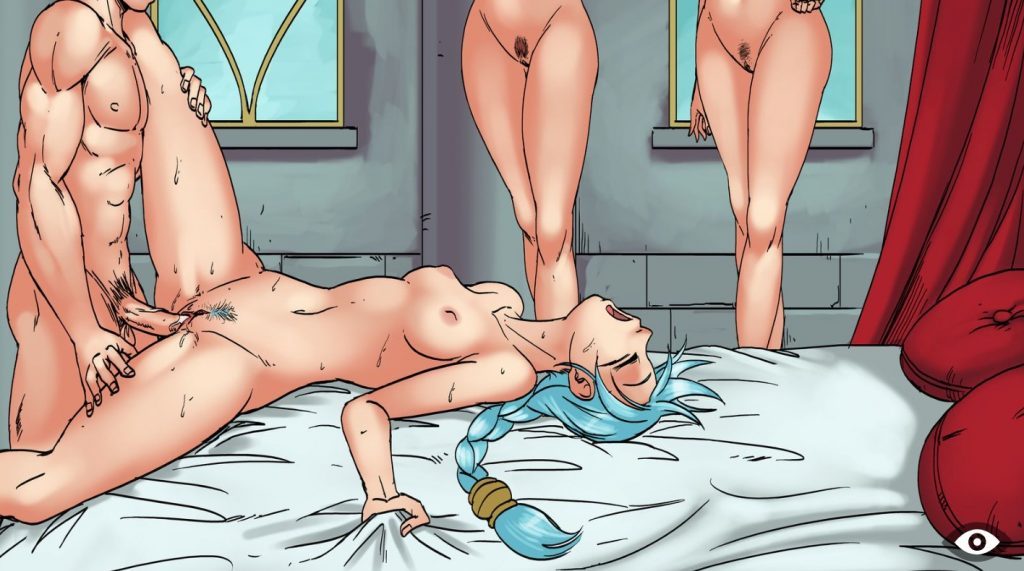 Hentai Heroes's gameplay revolves around its narrative. You expend energy to progress through a scenario. Although a little naff, the narrative being its main strength, Hentai Heores manages to offer us exciting stories, accompanied by very erotic Hentai drawings to warm us up. All the scenarios you complete once will be permanently unlocked. You won't need to expend energy to replay an unlocked scenario.
Apart from the storytelling, you'll need to improve the girls in your Harem as well as your character. Improving your stats will help you in both PvE and PvP battles. You'll unlock PvP when you have 3 girls in your Harem.
Event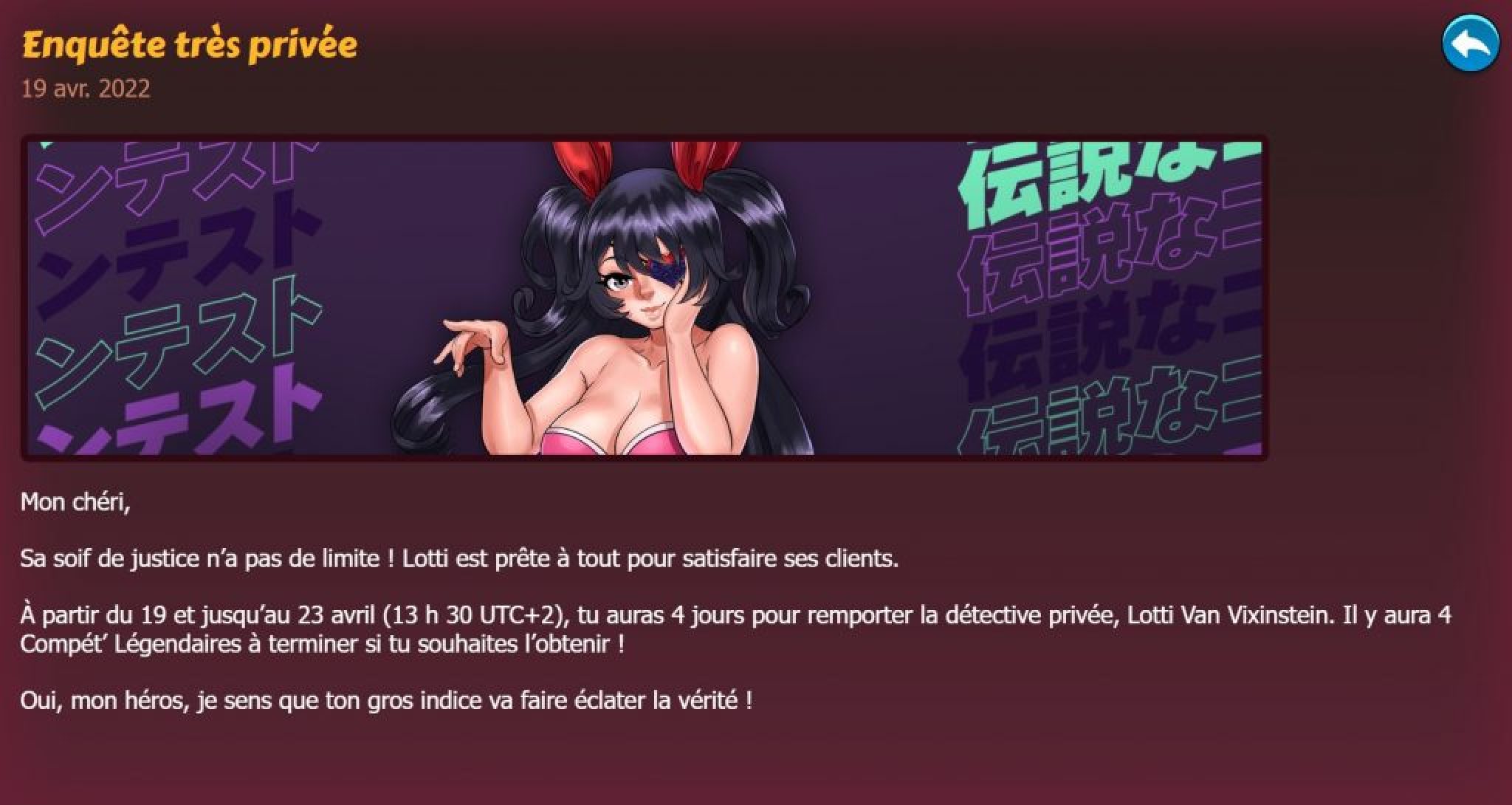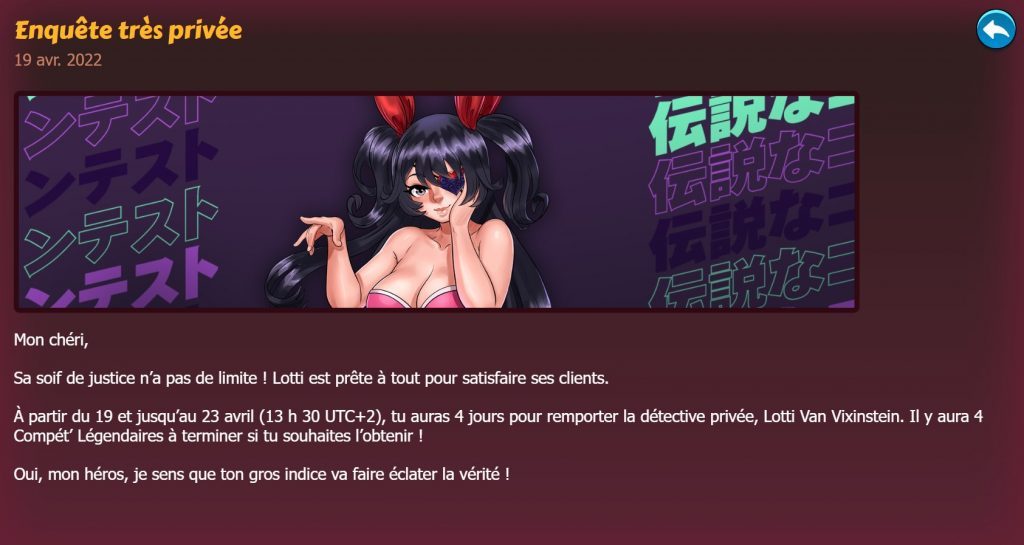 Hentai Heroes offers several game modes besides the adventure mode and side quests. When you add a third girl to your Harem, you will have access to PvE and PvP modes.
Blossoming Beauties
Blossoming Beauties is the PvP mode of Hentai Heroes. With the Blossoming Beauties game mode, you will be able to get many rewards including 2 exclusive girls. However, the rewards are linked to a "Season Pass".
The Season Pass includes great rewards such as upgrades for your characters or a girl to add to your Harem. For €4.99, you can choose to upgrade your Season Pass. This upgraded pass includes even more rewards and an additional girl.
Against the bad guy
When you progress in Hentai Heroes, a quest will ask you to fight the Dark Lord in the mission "against the villain". Problem is, you are directly sent back to the home screen without being told why. Well, you are missing a girl, the fight against Dark Lord requires having three girls without his Harem.
You can easily get that third girl back with your daily rewards if you wait until the second day. On the 2ᵉ, 7ᵉ, 14ᵉ, 21ᵉ and last day of your daily rewards, you will be able to pick up epic orbs that allow you to summon girls to the pachinko. Once you have recruited a third girl into your Harem, you will be able to face the Dark Lord and advance in the main quest.
Stairs of the Pantheon
With each step up the stairs of the Pantheon, you will get rewards that will improve as you climb the floors. On floors 500, 1000, 1500 and 2000, you can get legendary girls inspired by the universe of Saint Seiya (Knights of the Zodiac).
To progress and fight in the Pantheon, you will have to use a brand new type of energy, the Veneration. The higher you are in the stairs of the Pantheon, the more difficult the fights will be, remember to come well prepared.
Graphics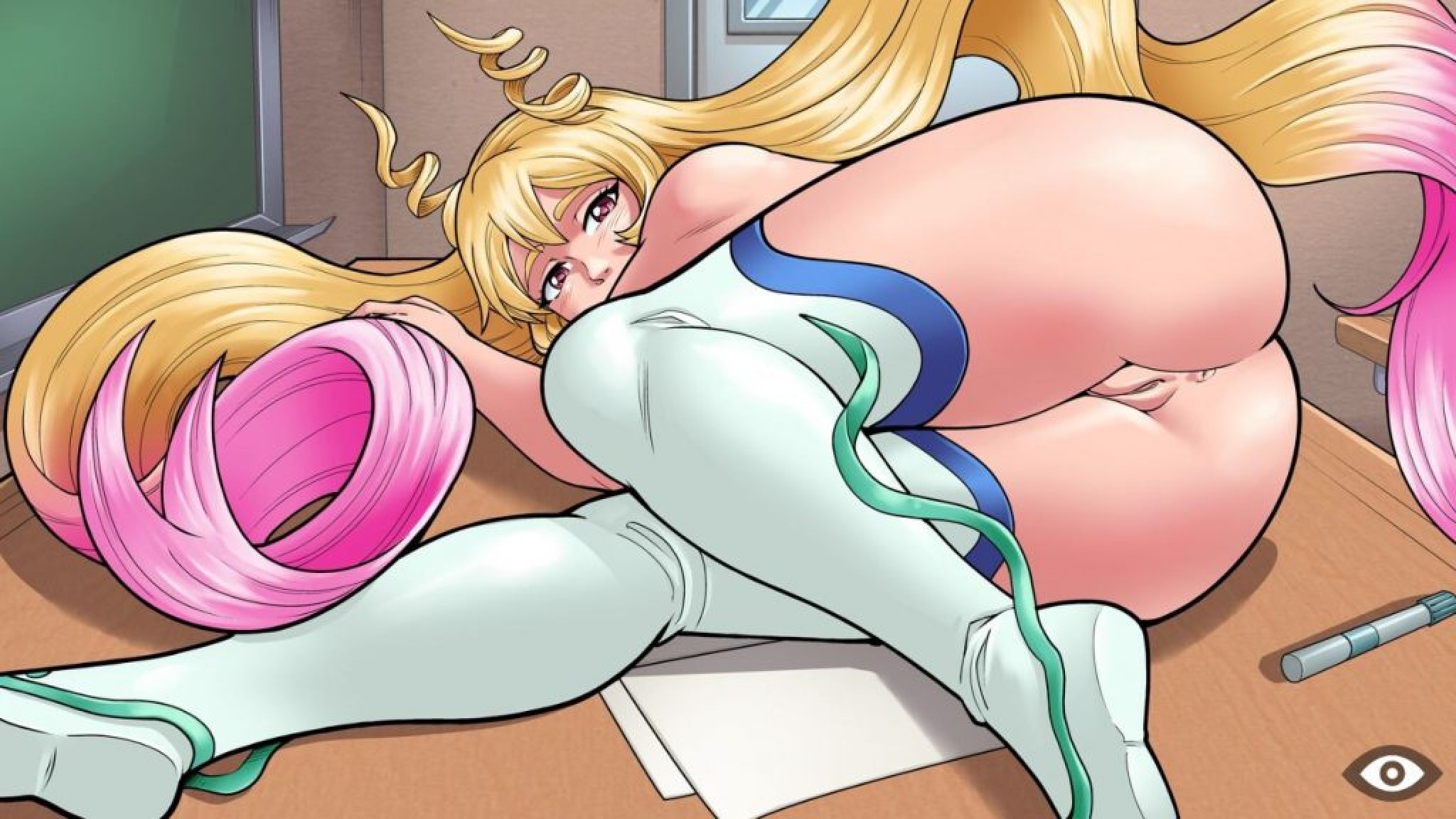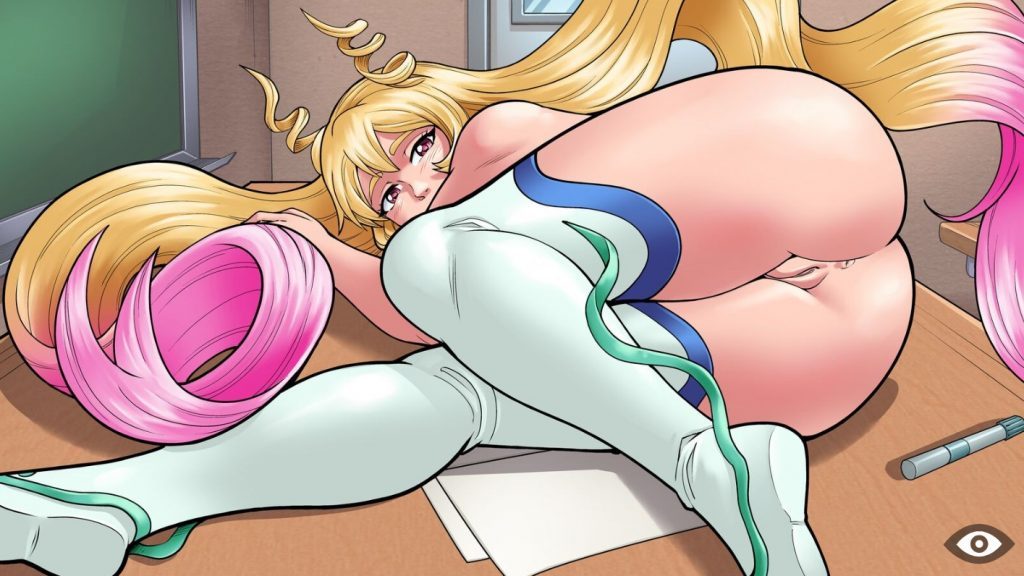 Let's be honest, Hentai Heroes's graphics aren't spectacular. If you want to jerk off to Hentai, you might as well start a video. Despite this, the game manages to make an impact, and the scenarios and drawings are actually of good quality and constantly improving.
The fact that we have to invest ourselves in the game, immerses us more and allows to create a particular atmosphere. Personally, I love to spend a little time warming up on Hentai Heroes before moving on to something more serious.
All in all, the quality of Hentai Heroes' graphics is more than satisfactory. Moreover, the drawings continue to improve and the developers regularly release new girls with attractive designs.
Hentai Heroes : How to play ?
Hentai Heroes is a totally free browser-based porn game. After a short tutorial, the game will ask you to log in or create an account. You can get lots of rewards by registering via our link, so don't hesitate.
Hentai Heroes on mobile
Hentai Heroes is compatible with smartphone and tablet. You can launch the game directly through your phone's browser or download the application. To download the application, just scan the QR code below. Make sure you have authorized your smartphone to download applications that are not from the Appstore or Playstore. If not, go to "Settings", "Security" and "Unknown applications".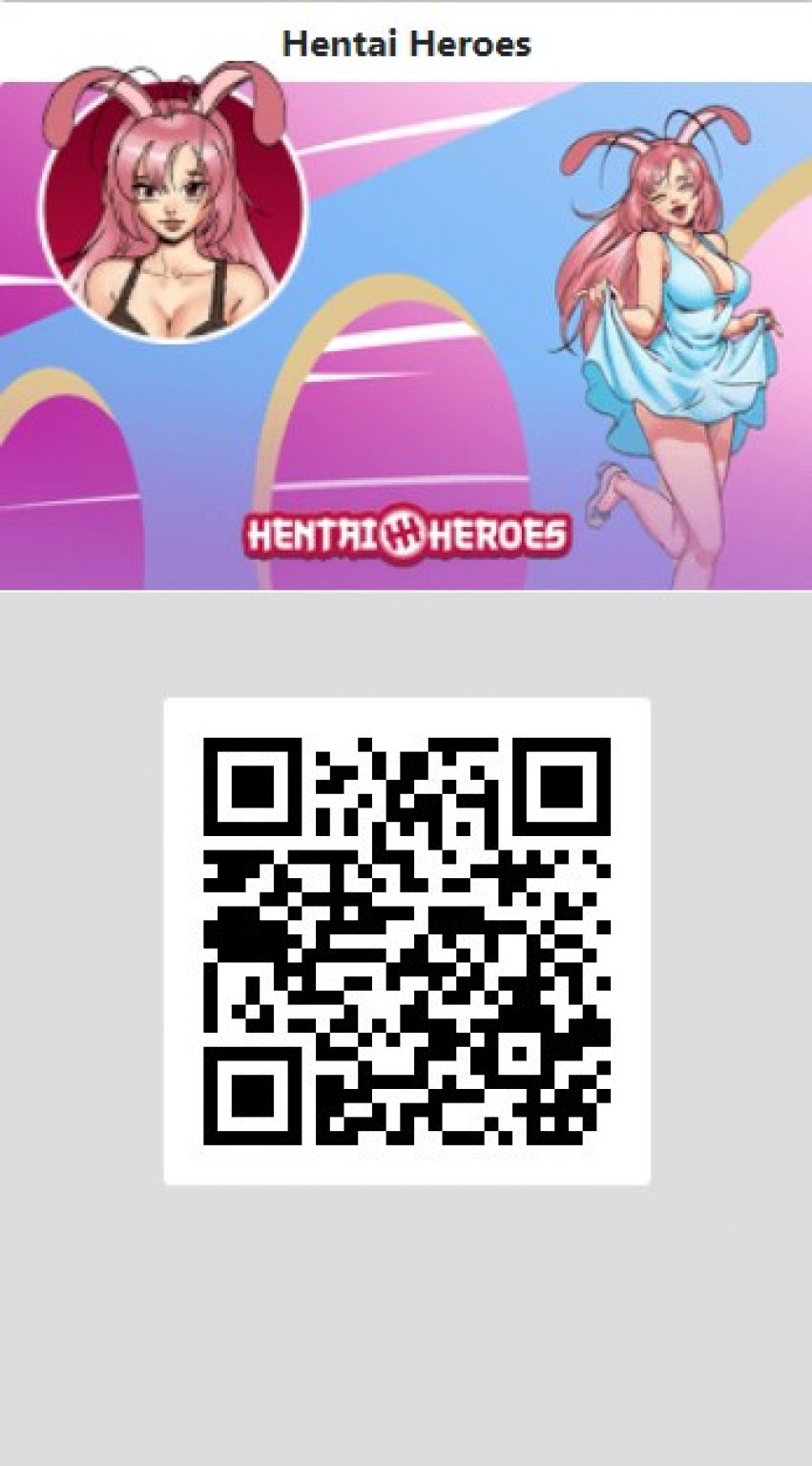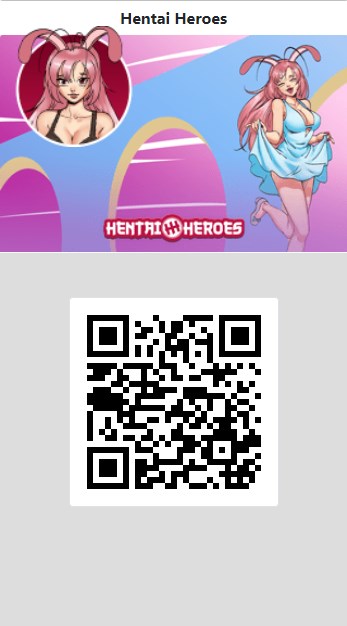 Hentai Heroes : Free Shop and Kobans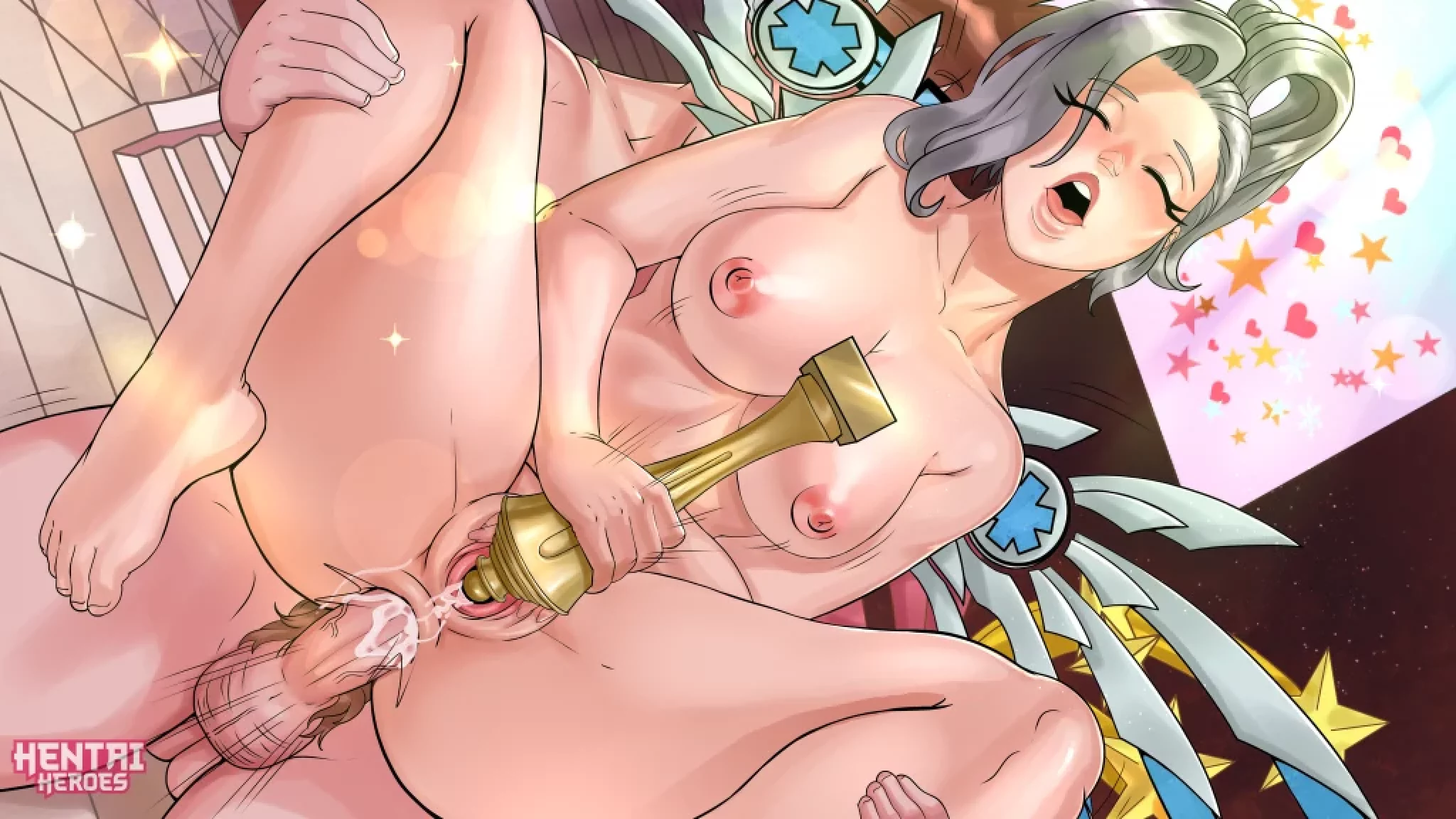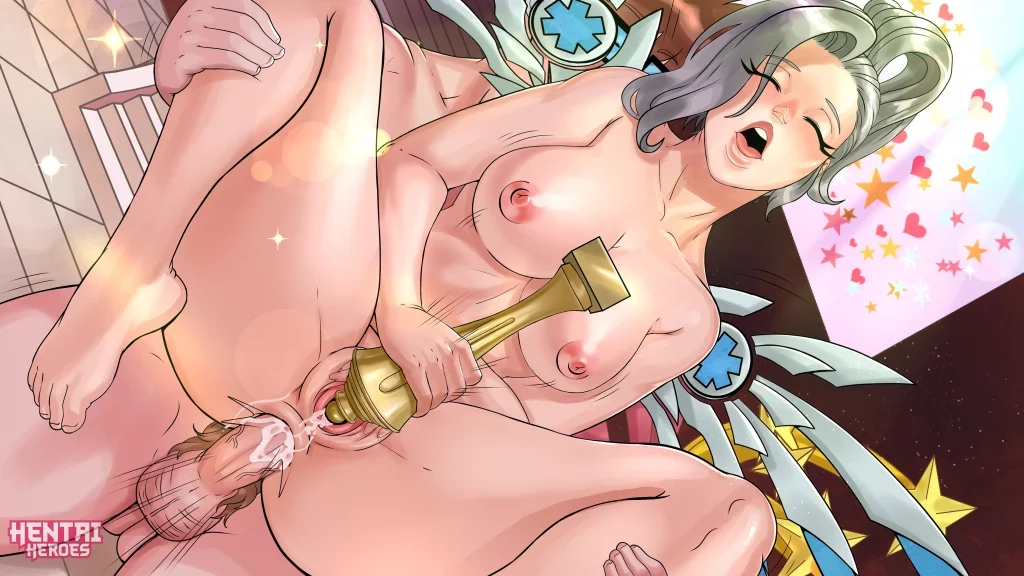 Hentai Heroes is a completely free to play game. However, the game offers many ways to accelerate your progress in exchange for real money.
The Kobans
Kobans are Hentai Heores' premium currency. You can get 150 for free via our link. The kobans help in so many aspects of the game that it's hard to name them all. But the kobans' most tiled functions are undoubtedly Pachinko and Energy recharge.
Pachinko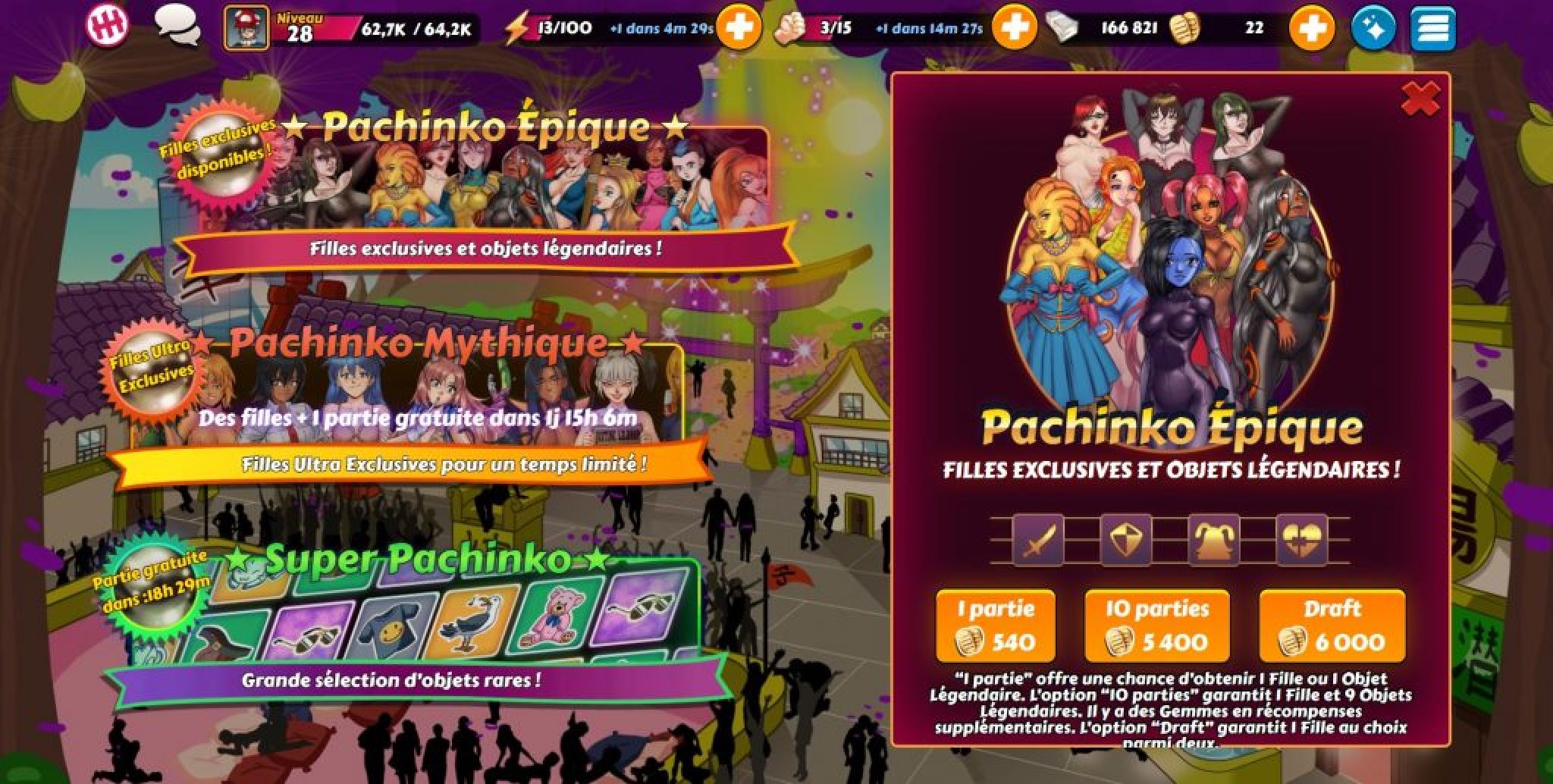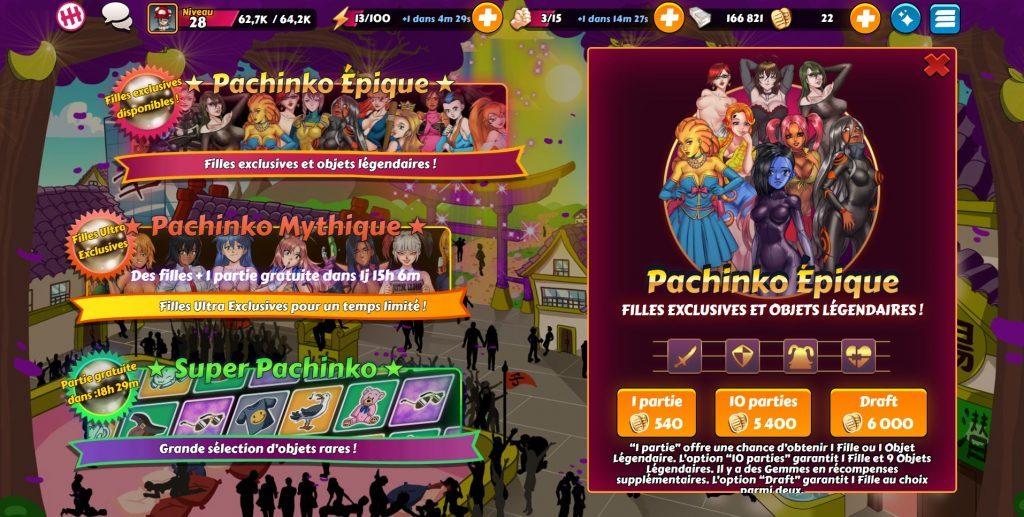 Pachinko is the "Gacha" side of Hentai Heroes. By spending your kobans there, you can try to obtain girls of legendary and mythical rarity. The two portals where you can obtain girls to add to your Harem are the following:
Epic Pachinko
1 Draw at 540 kobans. Offers a chance to get a random legendary item or girl.
10 draws at 5,400 kobans. Guaranteed 1 girl and 9 random legendary items.
Draft at 6,000 kobans. Guaranteed 1 of 2 legendary girls.
Mythical Pachinko
1 Draws 150 kobans. Offers a chance to get a legendary item or girl.
3 Draws at 840 kobans. Guaranteed 10 fragments of affection and two legendary items.
6 Draws at 1,980 kobans. Five legendary items and 25 fragments of affection. Additional bonus gems.
Energy Recharge
The kobans also allow you to recharge your energy. This is a very useful feature if you want to progress through scenarios without interruption. Waiting for your energy to recharge can take a long time. If you have 100 energies, be prepared to wait 1h30 for it to recharge completely.
Kobans price
If you'd like to buy kobans, Hentai Heroes offers several different prices and payment methods. You can buy your kobans with cryptos, paysafecard or simply by credit card.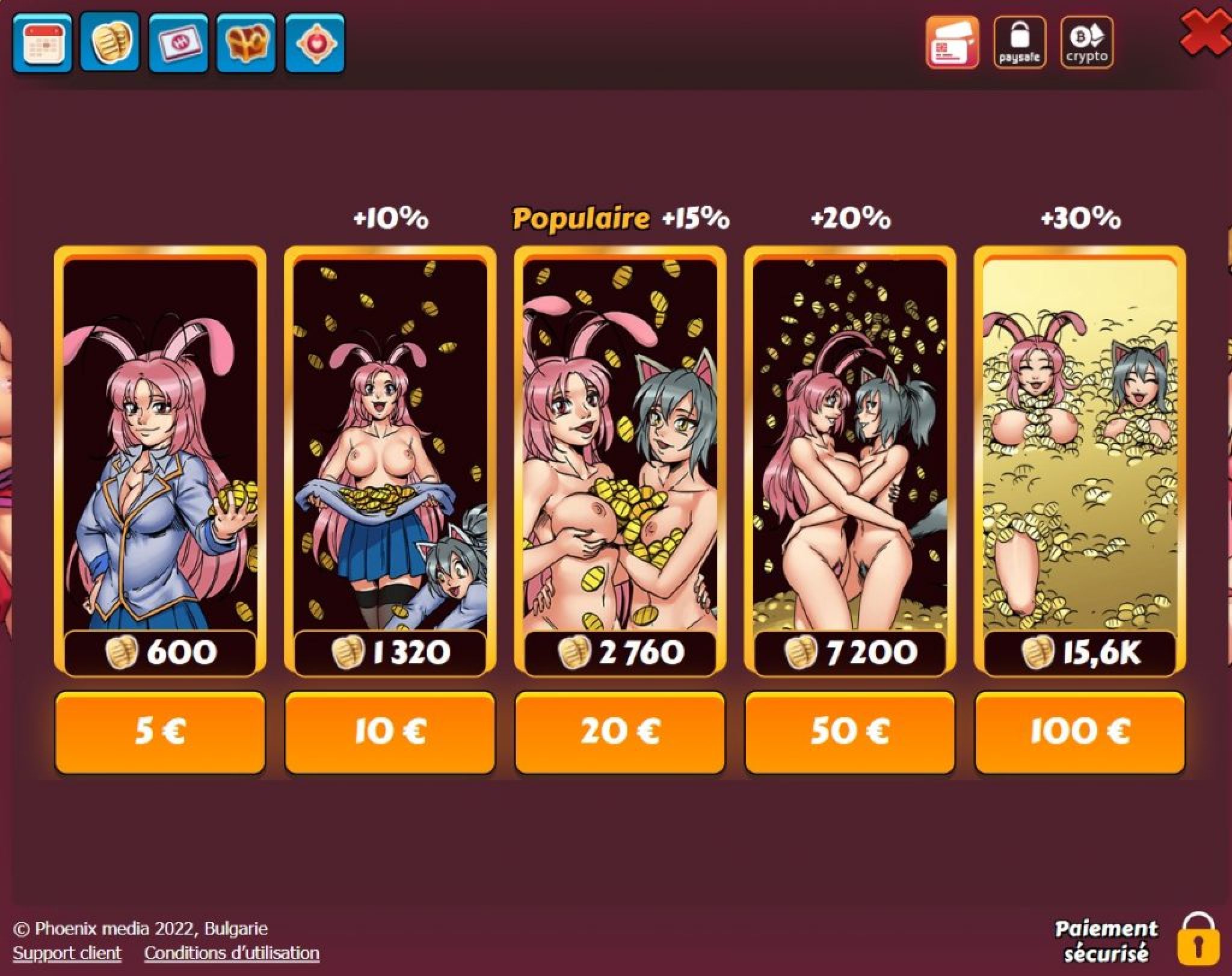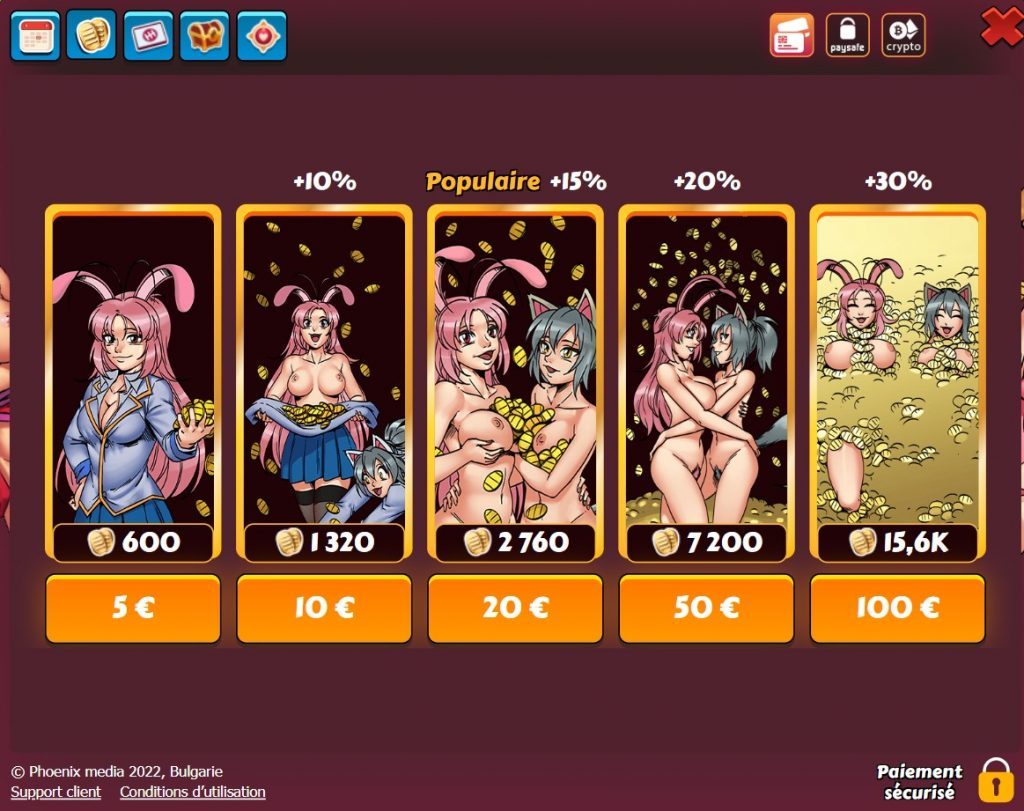 Monthly Card
Monthly cards are bonuses that allow you to earn premium resources every day. In addition to benefiting from daily resources, with the Silver Monthly Card you can also use the total collection without spending kobans, and get 8 additional team slots. The Gold Monthly Pass is an improved version of the Silver Monthly Pass, but costs more. Here are the prices and details of the Gold and Silver Monthly Cards.
Silver Card
| | |
| --- | --- |
| 🏷️ Price | 2,99 € |
| ⌛ Duration | 30 days |
| 🪙 Kobans | 60 per day (1,800 total) |
| 💋 Kisses | 2 per day (60 in total) |
| 💎 Gems | 5 per day (150 in total) |
Other Bonus :
Total free collection
Last rewards of the previous seasons of the path of affection and the path of value.
Eight team locations in total
Gold Card
| | |
| --- | --- |
| 🏷️ Price | 9,99 € |
| ⌛ Duration | 30 days |
| 🪙 Kobans | 150 per day (4,500 total) |
| 💋 Kisses | 4 per day (120 in total) |
| 💎 Gems | 10 per day (300 total) |
Other Bonus :
Total free collection
Last rewards of the previous seasons of the path of affection and the path of value.
Ten team locations in total
Free VS.villains performance x10 and x50
Free league performance x15
Season Pass
As mentioned above, Hentai Heroes offers a season pass to boost your progress. The basic pass already offers plenty of rewards, but for just €4.99 you can double them. Free draws, two exclusive characters and hundreds of items to improve your Harem are all included. with Season Pass.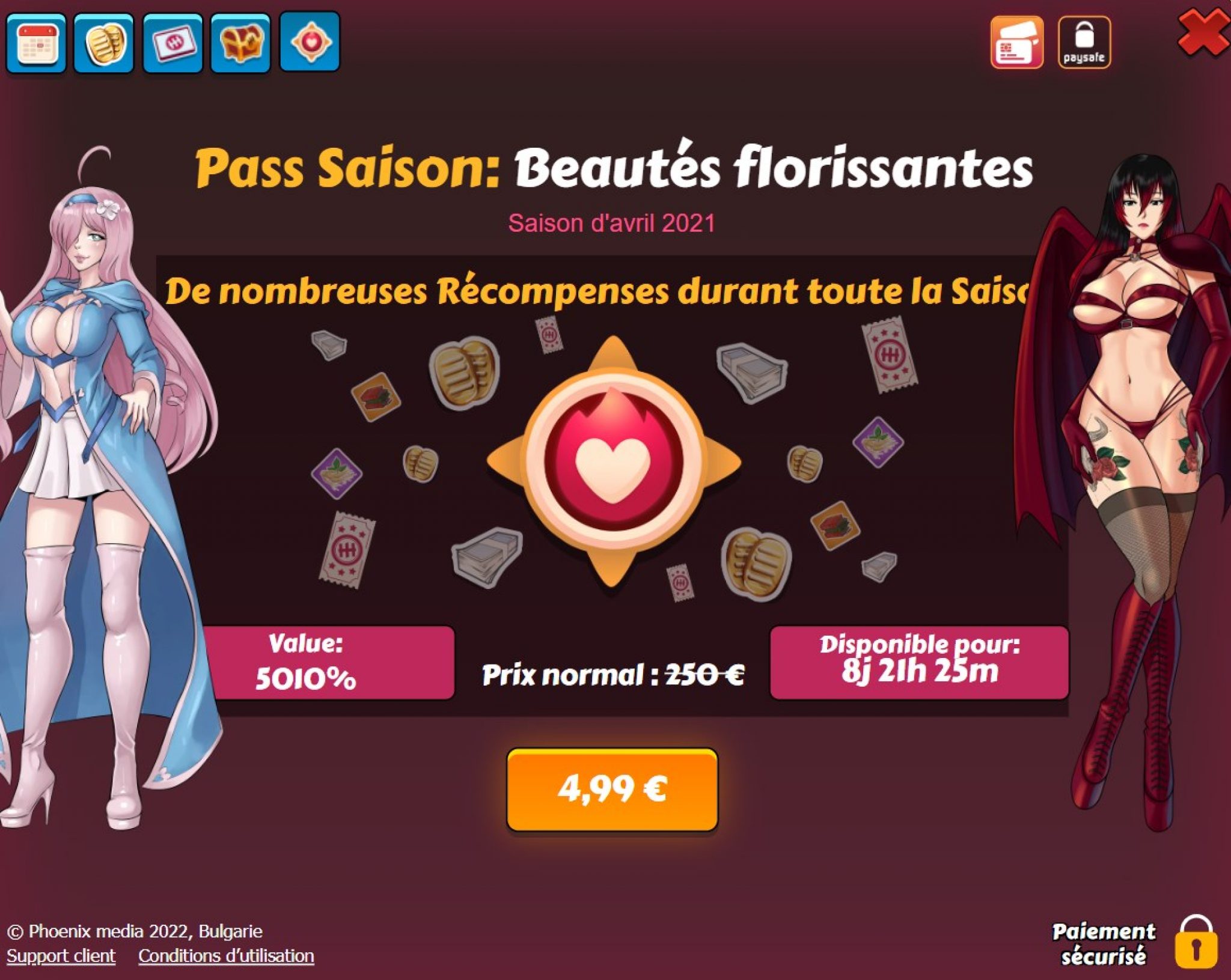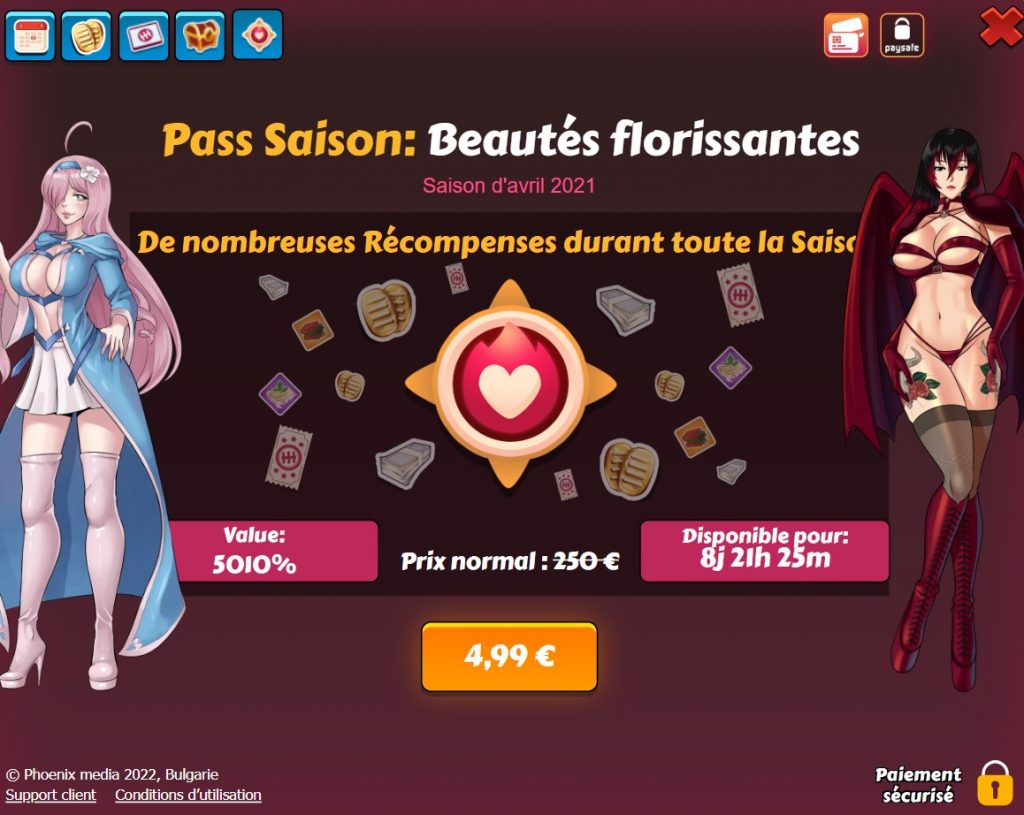 Free Kobans
By registering via our link, you can earn valuable rewards for 28 days as well as 150 free kobans by validating your e-mail. Rewards include 900 kobans and 50 free prints. As you progress through the game, you'll even be able to obtain a money card. free of charge !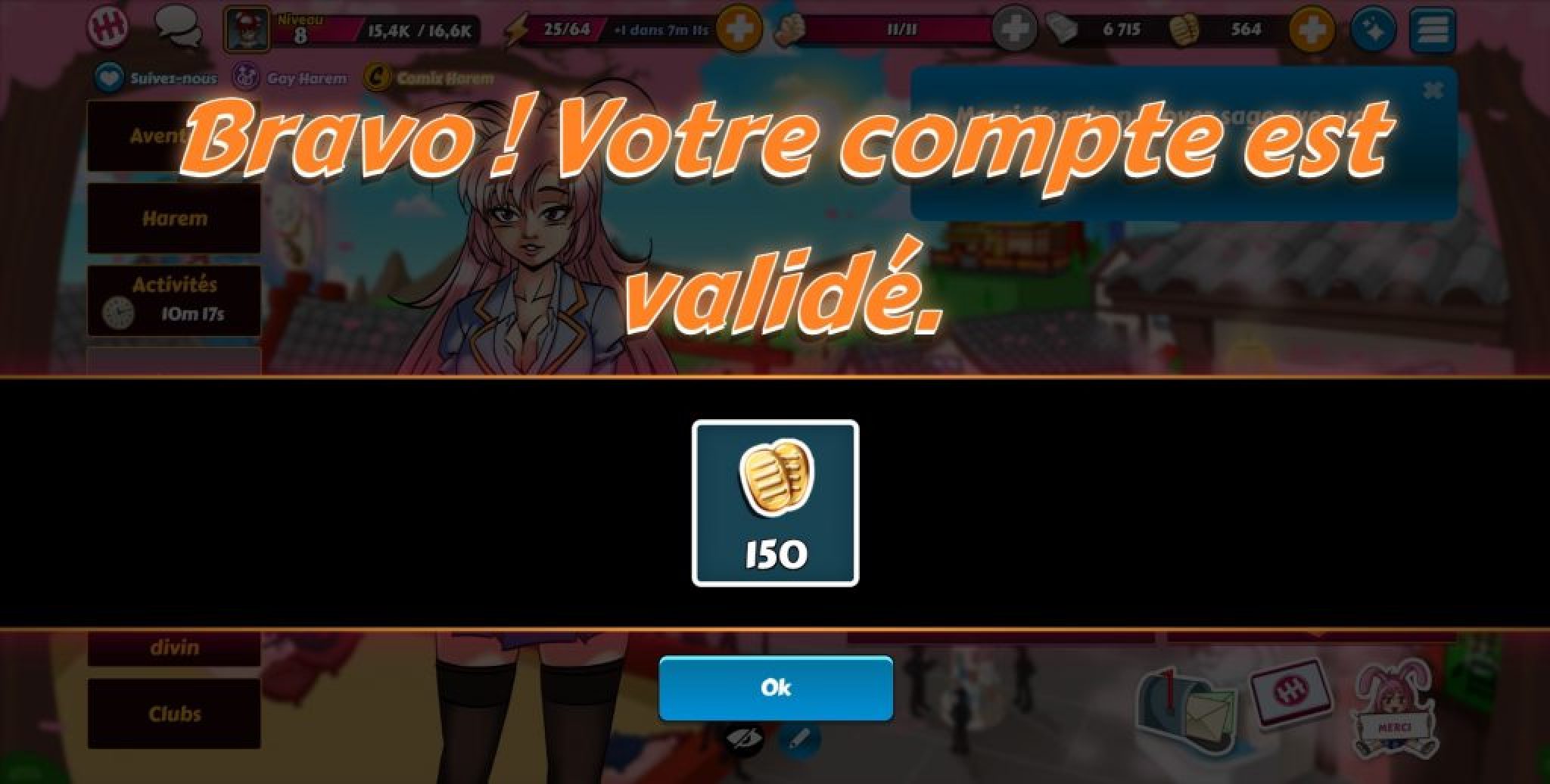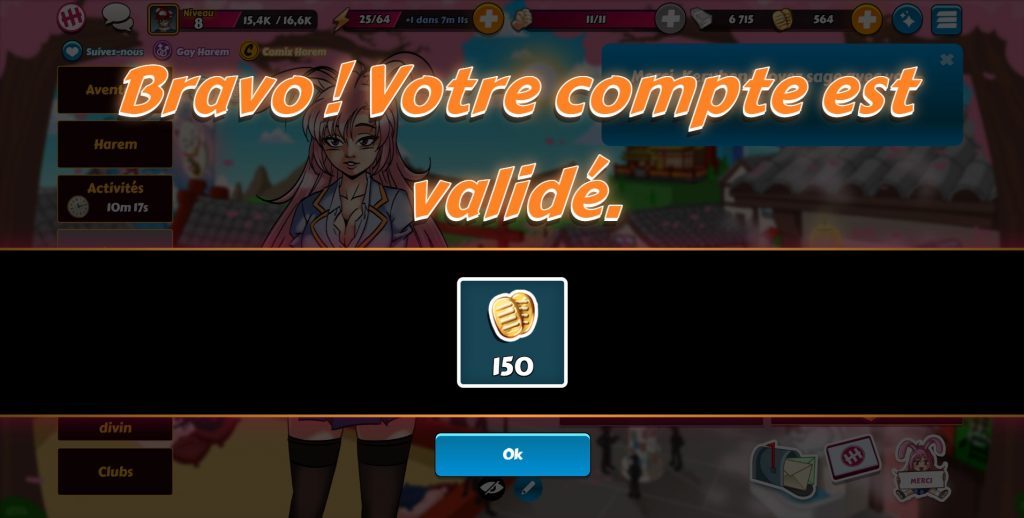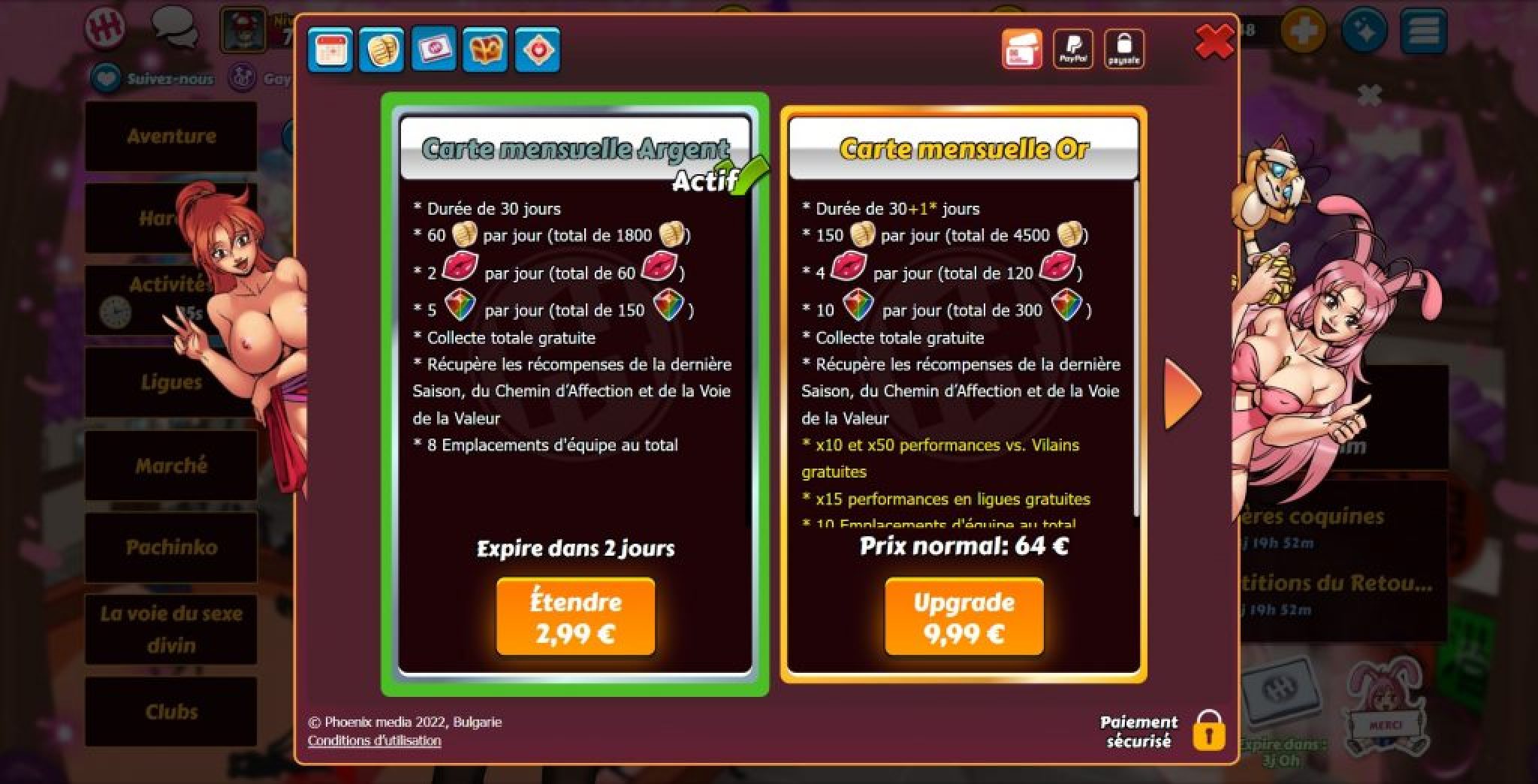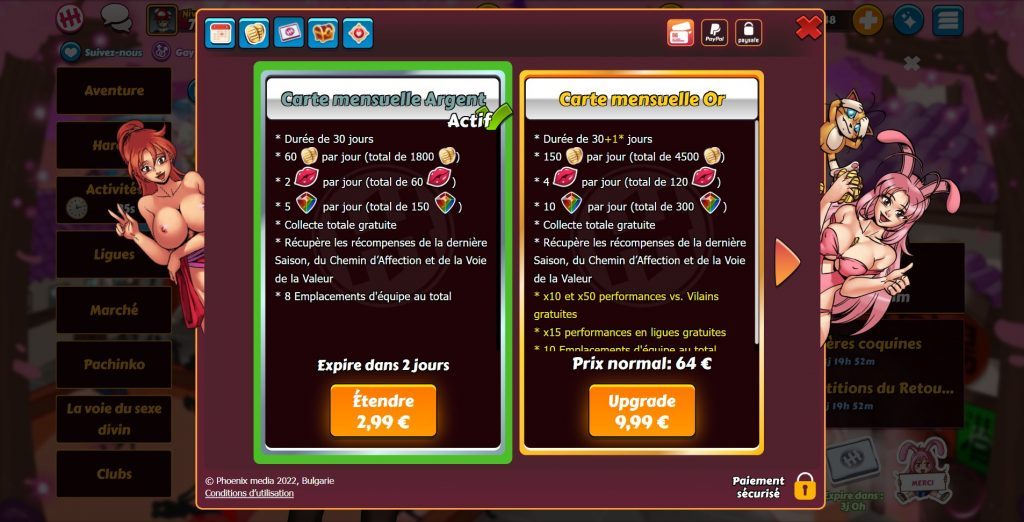 Hentai Heroes : Advantages and Disadvantages
Hentai Heroes is a very good browser porn game with several advantages and disadvantages. Here are the qualities and faults of the game that we have noticed.
Benefits
Improved graphics
Totally free
Browser porn game
Hentai Heroes mobile application
Payment completely optional
Tons of uncensored sex scenes
Disadvantages
The not-so-sexy starters
Ultra-chancy background music
F.A.Q
Here are the most recurrent questions about Hentai Heroes :
❤️ Can we play Hentai Heroes for free?
Hentai Heroes is a free browser-based porn game. You can progress through the game without spending a single euro.
🍑 Is it possible to play Hentai Heroes on the phone?
Of course you can! You can download the Hentai Heroes application via a QR code or simply launch the game on your mobile browser. We strongly advise you to create an account to link your progress to the game.
❤️ Should we download Hentai Heroes?
No need, Hentai Heroes is a browser based porn game. However, on mobile you have the choice between downloading the application or playing it directly on browser.
🍑 How to defeat Dark Lord?
In the mission Against the Dark Lord, to fight and defeat the Dark Lord you must have three girls in your Harem.
Hentai Heroes Gameplay video
Here's an example of Hentai Heroes's gameplay. This is the soft version without the pornographic images and animations.
Hentai Heroes : Our Conclusion
Hentai Heroes is a porn game full of pleasant surprises. Although the designs and graphics of the first scenarios may put you off, the game only gets better. Almost every week, Hentai Heroes's developers release Patch Notes. The game offers regular events to pick up new girls for free, and is generous with rewards.
Another of the great assets of Hentai Heroes is its totally "Hentai Heroes" aspect. Free to Play" . You don't have to spend a single cent to have fun in the game. You will be able to get new girls and progress in the story quite naturally. Of course, the game still offers paid bonuses to help you progress faster or expand your Harem more quickly.
To relax or warm up before getting out the handkerchief, Hentai Heroes is a great game. You will have a great time on Hentai Heroes helping the Hero in his erotic quest in the Haremverse.